DE-BW-15
Vue aérienne de la zone du Federsee, dans laquelle le site est situé © Landesamt für Denkmalpflege Baden Württemberg im Regierungspräsidium Stuttgart (LAD)
 Bad Buchau |  Siedlung Forschner
Description
actuellement disponible uniquement en langue anglaise
The Siedlung Forschner ("Forschner Settlement") is nestled in the southern marches of the Federsee and was named after its discoverer, Heinrich Forschner. He was the dentist of Biberach and a local historian who conducted early probes and excavations in the 1920's. This was followed by excavations by E. Wall in the 1950's, and by the Tübingen bureau of the Baden-Württemberg Department of Antiquities and Monuments in 1975. In cooperation with the Württemberg State Museum and the support of the German Research Foundation (DFG), the Department conducted extensive examinations from 1983 to 1989. The first settlement phase of the site dates to the Early Bronze Age, and a second, more pronounced phase, to the Middle Bronze Age. The majority of the artifacts recovered belong to the Hügelgräber-Kultur ("Tumulus Culture"), which indicate wide-ranging social and economic contacts.

 Age du Bronze
 1767-1730, 1600, 1519-1481 avant J.-C.
 580 m
Taille du site 3,45 ha / environ 5 terrains de foot
Taille du zone tampon 285,14 ha / environ 399 terrain de foot
Particularités & point forts
actuellement disponible uniquement en langue anglaise
This easily defendable site is the only fortified Middle Bronze Age Settlement preserved in a bog, north of the Alps. Its settlement structure is unique in the area, with parallels found in distant Danube regions. Large parts of the archaeological layers remain protected and undisturbed in the ground.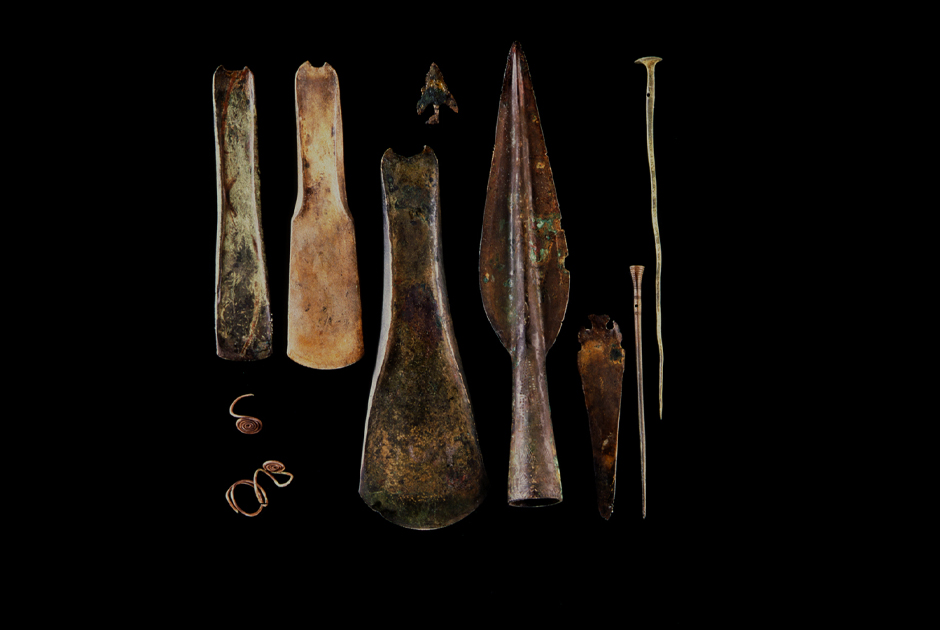 Diverses trouvailles en bronze : hache de bordure, pointe de lance, poignard, épingles de robe (de gauche à droite) et anneaux de fil de fer (en bas à gauche) © P. Frankenstein, H. Zwietasch / Landesmuseum Württemberg
Current activities
actuellement disponible uniquement en langue anglaise
The site is located in the undeveloped natural preserve of the southern Federsee marches. Efforts to raise the groundwater level have been made, and the Department of Antiquities and Monuments conducts monthly readings and monitors the situation.
Découvrir les palafittes
actuellement disponible uniquement en langue anglaise

The site can be visited individually. A sign trail is on site.

Selected finds can be visited here:

Federseemuseum
August-Gröber-Platz 2,
88422 Bad Buchau
to the website

Landesmuseum Württemberg
Altes Schloss,
Schillerpl. 6,
70173 Stuttgart
to the website

Museum Biberach
Museumstraße 6,
88400 Biberach an der Riß
to the website